Cake, Cotton Candy & a Clown Costume: Kate Gosselin Throws the Sextuplets a Carnival Birthday Bash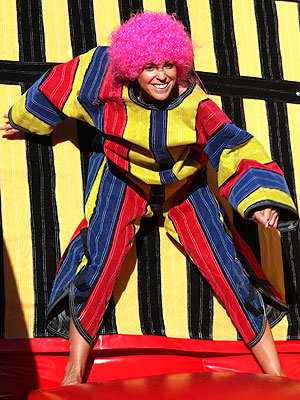 TL
Raising eight children can be a circus – a comparison Kate Gosselin took to heart to celebrate her sextuplets' birthday.
Dressed as a clown for her kids' big day, Gosselin threw a carnival-themed bash for the youngest in her very busy brood: Aaden, Collin, Joel, Leah, Alexis and Hannah. The sextuplets turned 10 years old on May 10, and TLC captured all the fun for the family's two-part return to reality TV.
"It was quite a celebratory carnival, marking 10 years of survival, health, happiness and the blessing of the best kids a mom could ever ask for," Gosselin, 39, tells PEOPLE. "And to me, if I'm being real ... maybe it didn't seem too much crazier than our usual family-circus-type life."
The party was an extravagant update of the sextuplets' 3rd birthday celebration, also broadcast on the show. Back then, Gosselin rocked a pink wig. But this year, she went all out in a full costume.
"My dream was to reinvent our carnival theme from their 3rd birthday party," she says. "And make it bigger, better and on a grander scale. In other words, more suited for kids of the double-digits age range this time around."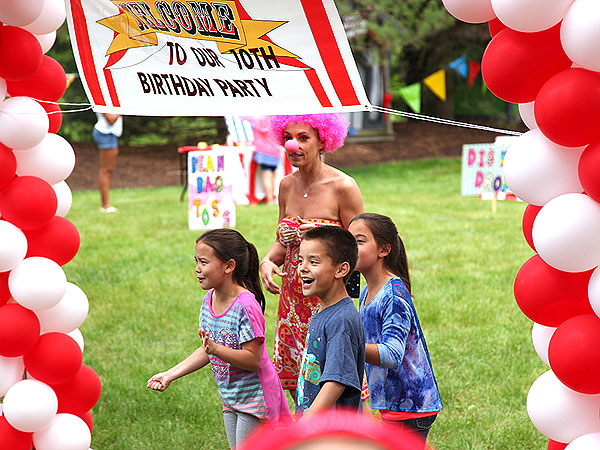 With amusement park games and plenty of sweet treats (including a cake shaped like a circus tent), the fête was a rousing – and slightly exhausting for mom – success.
"The day was a blur of activity from the crack of dawn til late that night," Gosselin says. "I think it turned out to be way more fun for all of us than any of us could have imagined. All nine of us came together – dreamed together, planned together, set up together and enjoyed a huge milestone with tons of our friends. Not to mention, the tons of candy, hot dogs, funnel cakes, popcorn, cotton candy, cake, ice cream and carnival games that also 'attended.' "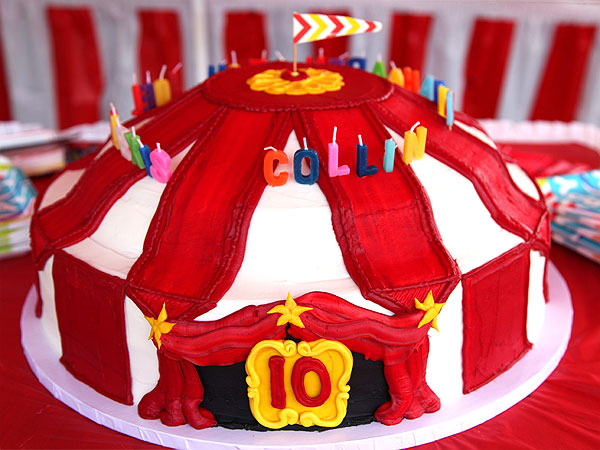 See all the action (and what else the Gosselins have been up to) when
Kate Plus Eight: Sextuplets Turn 10
airs as a two-part special on Thursday (10 p.m. ET) and next Thursday (June 26 at 10 p.m. ET) on TLC. In the meantime, check out this sneak-peek video of Gosselin doing her best to get the kids on board with her plan:
Kate Gosselin
has primary custody of the eight children she had with ex-husband,
Jon Gosselin
, but who's watching the brood while Kate's filming
Donald Trump
's
Celebrity Apprentice
in New York City? It depends who you ask. While the bodyguard once used to protect and watch over the children has
reportedly turned into more of a boy toy for Kate
these days, a source close to Jon exclusively tells
RadarOnline.com
that he's helping out with the children, while another source close to Kate says her estranged ex isn't helping any more than usual and she's had to employ three nannies to help out while she tapes. "Jon has the kids for a few days a week. The custody schedule changes all the time, always depending on Kate's schedule," the source told Radar.
"Jon drops them off at the house, and the nanny takes them at the front door. He usually doesn't know if Kate is around or not, and he doesn't know her shooting schedule. She really keeps Jon in the dark about a lot of things. But it's safe to say Kate was not with them last week, because Jon is."
But according to an insider on Team Kate, Jon hasn't stepped up any extra at all while she films the reality TV show and Kate's been forced to foot the expensive nanny bill. "Kate actually asked Jon to help out more with the kids while she does Celeb Apprentice, but he refused. He only wanted to take them his usual one day a week," the insider told Radar.Just last weekend the Gosselin children were spotted in New York City though, presumably to visit their mother while under the care of their nannies.A passerby walking her pug in Central Park ran into the Gosselin kids over the weekend: